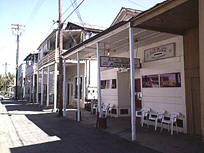 Al the Wop's
Locke Ride
June 19th, 2021
Once again, June is the time for our annual pilgrimage to the Delta, Al the Wop's, and one of the finest (well, most unique) steak sandwiches in Northern California. Al the Wop's defies description and simply needs to be experienced to be understood.
"Al the Wop's," Politically Incorrect, you say? Yes it is. They tried to rename it "Al's Place" in the 80's, but the name never took. They've been serving up good grub and drink since 1915!
I have just confirmed a reservation for twenty people at Al the Wop's in Locke for Saturday, June 19th, 2021 at noon. They expect everything to be open and little or no restrictions with the California Governor's plans to completely open the State of California on June 15th, so that's good for us.

As usual, we will be meeting at the Shell Station in Antioch as our launching spot at 10:00 AM to make sure that every rider is topped-off with fuel and we can gather there for a group photo and visit until KSU (Kick Stands Up) at 10:45AM giving everyone time to get there from all points in the San Francisco Bay Area.

The address for the Shell Station on Hillcrest Avenue in Antioch is:
2701 Hillcrest Avenue

Antioch, California 94531
Tonya and I plan on being there early to welcome all riders who wish to meet with us. I will be notifying the Napa Chapter (BKCA5) and the Sacramento Chatper (BKCA1) as they have met us at Al the Wop's for many years in the past.

This will be the first event for BKCA7 in a long time due to the Covid-19 pandemic however we managed to go to Al the Wop's last year during a brief window of opportunity between closures of the State of California
If you need any information e-mail is the best way to get in touch with me at either Michael@Wozniak.com or mwozniak@pacbell.net
Ride with Pride,

Woz...
This is an event that in the past has drawn Blue Knights from all over Northern California and we hope to see many return again this year.